Using remote video support within technical projects
From housing to healthcare and education to enterprise—digital adoption by businesses and their customers leapt forward five years in just eight weeks recently (McKinsey), and this "rapid migration will continue into the recovery". So, if remote working and services are the new normal—how can you make them work best for your business, and what are the key factors to guarantee a successful remote support project?
Whichever industry you work in, the year of 2020 has delivered big change—and for many of us the biggest has been the rise of remote working. Seemingly overnight remote services and solutions have transformed from 'nice-to-haves' to 'need-to-haves', from 'extras' to 'essentials'. Analysts agree that with the efficiencies and cost savings remote working enables, the trend is historic, and likely to remain. As a recent McKinsey report put it: "we have vaulted five years forward in consumer and business digital adoption in a matter of eight weeks. The rapid migration to digital technologies driven by the pandemic will continue into the recovery." (1)
Different from other video communication tools
And we're not just talking Zoom, Teams or remote conferencing (read more in depth about the differences here!). Whilst millions of us now remote conference and screen-share like never before, it is not just how much we work remotely, but the number and range of jobs carried out remotely that has increased dramatically too. At XMReality we have seen the use cases for Remote Guidance mature significantly during 2020. From energy to manufacturing to housing facility management Remote Guidance has been taken up in new ways. Valuable for training, mentoring, internal communications and even installation, Remote Guidance usage is growing in parallel with remote working—as clients broaden the benefits of their solution.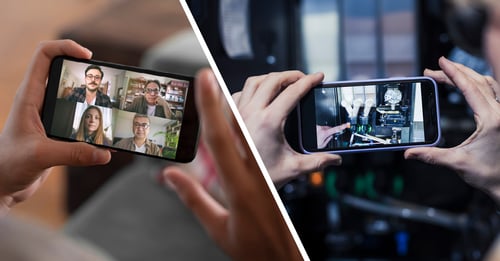 Take Norden Machinery. A world-leading manufacturer of tube-filling systems, Norden recently installed a 100-tube-a-minute pharmaceutical filling machine entirely remotely. The company now plans to use Remote Guidance in other commissioning and installation projects. The two-week project demonstrated many of the key factors that we've heard from our customers on how to ensure successful collaboration in larger remote projects.
So we've summarized them here to help you succeed with any remote project that you are in charge of:
KEY SUCCESS FACTOR #1
EVALUATE THE SKILLS LEVEL OF YOUR REMOTE TEAM BEFORE THE PROJECT BEGINS
Before large remote collaborations begin, carry out a risk analysis and carefully assess the experience and skills level of the remote team you will be working with. Once begun this means you will be better able to delegate without having to micromanage. Norden's Project manager was Field Engineer for Customer Service Thomas Sandgren who shared his view on this "Building a picture for myself of what the team's technical level was, whether they had handled our machinery before, their language skills and so on—it was vital in deciding whether to go ahead."
KEY SUCCESS FACTOR #2
TRUST YOUR TECHNICIANS & TAKE IT STEP-BY-STEP
Successful remote collaboration is always a careful balancing act between trust and support, instruction and independence. Give your team space but always be on call. Just because it is a remote project does not mean you have to be constantly interacting remotely 24/7. Break the project up into clear, achievable steps. This makes planning and interaction clearer and more measurable.
KEY SUCCESS FACTOR #3
EXPLORE OPPORTUNITIES WITIHN THE REMOTE ENVIRONMENT BEFOREHAND
What real-time digital channels are already in place that could be used in the project? Is the site secure, focused and suitable for the project? In the Norden case for example the company was granted access by the client to the facility's security cameras—enabling the support technician to monitor the onsite team's progress without always having to have an active call ongoing.
KEY SUCCESS FACTOR #4
YOUR WI-FI IS YOUR LIFELINE—CHECK IT, THEN CHECK IT AGAIN
When it comes to safety and quality the tiniest lag during remote projects can cause problems. "Check the Wi-Fi first with a live test to see how robust the signal is" Thomas Sandgren recommends, "if you notice lagging that gives the IT guys the chance to see if they can boost the signal before the project."
KEY SUCCESS FACTOR #5
GIVE YOUR CUSTOMER ACCESS TO YOUR XMREALITY SOLUTION
Remember how we said that successful remote collaboration is a careful balancing act between instruction and independence? Giving your remote client their own license and login frees them up whilst giving them more support. It means they can contact you any time—without you having to send them a link first.