About Norden Machinery and their challenge
The world's leading supplier of high-performance tube filling systems, Norden Machinery AB delivered its first system in 1934 and has been innovating ever since. Norden is owned by the Coesia group which owns 21 global industrial and packaging solutions companies and is headquartered in Bologna, Italy.
When tough COVID-19 travel restrictions were imposed, Norden Machinery faced a difficult decision: A major pharmaceutical client needed to install a new tube filling machine at its manufacturing facility outside Istanbul. With its installation engineer unable to travel there, Norden had to decide whether to attempt an entirely remote installation, the first in its history.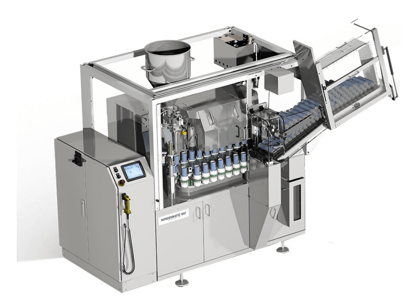 Picture above: The machine which was installed remotely at the customer: Nordenmatic 902
"It was a big decision and we couldn't guarantee success," says Thomas Sandgren. "The risk analysis we carried out assessed three danger factors– one, that we'd fail, two, that the machine could be damaged, and third and most importantly the risk of injury. What finally made us decide 'yes' was that we had an experienced team onsite who had already worked with earlier versions of our machines. If the customer had been starting from scratch it would have been very difficult. Plus, we had a well-equipped installation environment, the customer gave us full access to their security cameras. So, together we decided to go for it."
Despite the planning however, the first two days were challenging. The initial remote setup used the site's onsite cameras plus WhatsApp. "We had constant problems with lagging and connection" says Sandgren, "there was a 20-second delay which was extremely frustrating on both sides. I decided 'OK this isn't working' and we switched to XMReality Remote Guidance. We noticed the instant connection and advantages immediately."
The solution
Successful remote collaboration is a careful balancing act between trust and support, instruction and independence. The more the support desk knows about the skills level of the remote team the better they can delegate tasks without having to micromanage every component. To better facilitate planning and interaction Norden gave the client their own license and login to XMReality. "This meant the customer could call any time without me having to send them links" says Sandgren.
Sandgren broke the project up into clear, achievable stages – with live Q&A sessions in between. "In the afternoon the team would work by themselves on tasks we had trained around, and then every morning at 0900 we had a real-time interactive Q&A using XMReality Remote Guidance."
The pointer feature on XMReality, allowing the user to highlight specific areas, and the drawing feature, pausing the screen and drawing instructions, were particularly appreciated. For Sandgren they were essential, indispensable tools. "It turned out we didn't end up using so many of the advanced features," he says "you can achieve a lot with pointing and drawing. It shows how for us Visual Assistance isn't something futuristic or next generation anymore - it's a tool in our toolbox. It's like a 10-mm spanner – we take it out when we need it.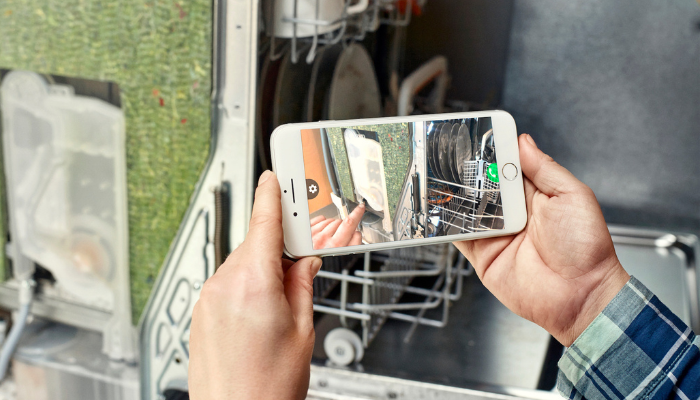 Result
No follow-up service issues or problems were reported following a successful installation. The project was completed on schedule in two weeks. Onsite installation would have taken one week, with travel and accommodation costs for the installation engineer. Sandgren points out that with remote installation he was able to take part in other projects as well during the two weeks.
The project has demonstrated some broader strategic benefits of XMReality to Norden Machinery and the compnay now use XMreality´s augmented reality support solution for commissioning and other installation jobs. but also supporting customers and performs troubleshooting and diagnostics to help customers solving their problems faster. "In 2018 we thought of Visual assistance as a tool primarily for troubleshooting, but it's become something more than that. Remote installation still depends a lot on the complexity of the machine. A whole line, with two or more machines positioned together, would be complex to master remotely. But installing single machines like this one is perfectly possible remotely. This proves it can be done."
In addition XMReality also allows Norden Machinery to offer remote product training, for customers after an installation has been conducted.

Five Key Success Factors For Remote Installation
1. Evaluate The Skills Level Of Your Remote Team
Make sure to do it before the project starts. "When I first met the team, I tried to build a picture for myself of what their technical level was, whether they had handled our machinery before, their language skills and so on—it was vital in deciding whether to go ahead." - Thomas Sandgren. Five Key Success Factors For Remote Installation
2. Explore The Installation Environment
What real-time security or digital channels are in place that could be used in the installation? Is the site secure, focused and conducive to challenging work?
3. Your Wi-Fi Is Your Lifeline — Check It First
When it comes to safety and quality the tiniest lag during an installation can cause problems. "Check the Wi-Fi first with a live test to see how robust the signal is, if you notice lagging that gives the IT guys the chance to see if they can boost it before the project." - Thomas Sandgren.
4. Trust Your Technicians & Take It Step-By-Step
Give your team space but always be on call. Just because it is a remote project does not mean you have to be interacting remotely 24/7. Break the project up into clear, achievable steps with scheduled Q&A sessions in between.
5. Give Your Customer Access To Your XMReality Solution
Successful remote collaboration is a careful balancing act between trust and support. With their own license and login your customer can contact you any time without you having to send them a link.
Quick Facts about Norden Machinery
WHERE: Norden has its headquarters in Kalmar, Sweden, plus staff in 60 countries worldwide from Belgium to Bangladesh, Vietnam to Venezuela.
WHAT: Norden provides customized packaging systems for tube filling, cartoning, tray packing and depalletizing.
HOW MANY: Norden employs 300 staff at its HQ, delivers 130-150 machines every year and has supplied 8000 machines in total, with 5000 in operation at customer's sites.
WHO: Norden customers include Unilever, Colgate, GSK and L'Oréal. Norden has 1,400 active customers in the cosmetics, toothpaste, food, pharma and engineering industries.