FAQ
---
Below you find answers to some of the most common questions users come across.
XMReality Remote Guidance™ is a communication tool that lets you see through someone else's eyes and guide them with your own hands – as if you were there. Remote Guidance™ is built on AR technology to provide our unique hands overlay guidance and includes several features that allows you to interact easier with your counterpart, such as; pointer, drawings, screen sharing, etc. Read more about features here: https://xmreality.com/our-product/
You can call anyone! You can easily connect to people within and outside of your organization even if they do not have our app installed. First, send them a "Call Link" and immediately begin your Remote Guidance session over a mobile devices web browser, without the need for the other person to download or install anything! If you would like to call someone from outside of your organization that you know have an XMReality account, you can add them as a contact in your contact list.
A 'Call Link' allows anyone who clicks on it to start a Remote Guidance call with you. You can send this link through different channels such as SMS, Email or Teams for example. The recipient does not need to have an account, they don't need to install anything, nor do they have to enter any information to start the call. In other words, all they need is to open the link on a modern mobile device web browser. When they then tap the 'Call Link' they will be asked to allow access to the camera and microphone. Once that's done, they just tap the call button and your device will ring. Finally, at the moment you accept the call, their camera will be streamed to your screen and you can start guiding them.
Technical
XMReality is a software-as-a-service (SaaS) product, which means that you can start using it immediately after purchase. XMReality runs in a highly reliable and secure cloud to ensure that the service is always available and no one else can eardrop on you or your calls.
Yes, XMReality provides federated login and SSO authentication for users and admins. Let us know if you want to know more!
XMReality provides best business impact when integrated well with your tech stack. XMReality provides robust APIs, and all Enterprise customers get access to our API's. In addition, you can also request a custom integration with your specific tools and applications. Firstly, we will need more information as to the expected user and data behaviors in order to design and build the optimal user experience.
XMReality Remote guidance can be used as long as you have a network connection. This means that the software will automatically scale parameters such as resolution, frame rate and degree of compression up and down based on the estimated network conditions.
XMReality is a European company, based in Sweden. Companies that use the software Remote guidance have complete ownership and control over all data and content published with the software. We are compliant to the GDPR regulation that came into effect on May 1st, 2018 for all European Companies.
You can report an issue directly from your application (either from Mobile device or Computer).
Windows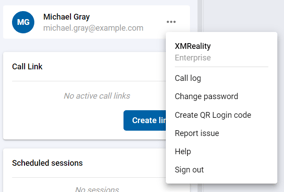 Mobile device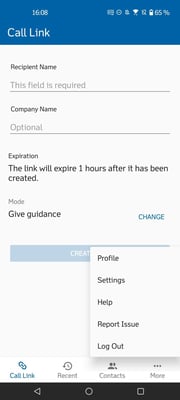 You could also email support@xmreality.com
Could you not find the answer on your question?