What are smart glasses?
But first things first, what are smart glasses? When we say smart glasses or smart eyewear, you might think of some science fiction movie where people use augmented reality in their glasses to become more powerful or solve life-threatening issues. Well, smart glasses are not quite that. But in many ways, they are precisely that.
AR Smart glasses are essentially like wearable computers, depending on the context and usage; you can use them to add information alongside what you see, instruct them with your voice, or use them as a phone to call and text others.
In 2013, Google launched an early version of smart eyewear called Google Glass Explorer. They proved too uncomfortable and expensive to become a hit and were discontinued after 18 months. But they did, however, pave the way for other tech companies who soon started working on their prototypes.
What are some of the use areas of smart glasses?
Today we can find smart glasses in more places than we might think. In 2013, smart glasses were used in the health field, where an American doctor live-streamed a surgery through his smart glasses for his students to watch. And smart glasses have also been used by mountain bikers, whose purpose has been to show terrain information using augmented reality, commonly referred to as AR.
Many industrial companies use smart glasses as part of long-term planned commissions and installations where they first distribute them to customers for them to connect. Another example is the Norwegian Emergency Medical Services, where paramedics arrived at the scene of an incident and used smart glasses to communicate with the appropriate specialist doctor and hospital for faster and better care.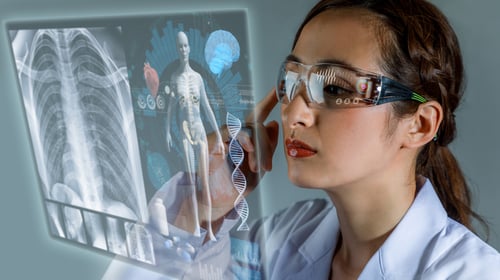 What does the future of smart glasses look like?
There are a few reasons why smart glasses are still on the rise. They haven't had a specific purpose, the price is still very high, and they tend to look clunky and not very fashionable. However, the more recent editions of smart glasses focus on meeting customers' expectations and needs by adding more durability, making them easier to use, and creating them to meet specific needs.
XMReality in smart glasses
As the different use areas of smart glasses expand, XMReality continues to optimize how our product works on the market's most popular smart glasses. If you are already familiar with XMReality, you know what our technology is all about.
XMReality Remote Guidance is an advanced cloud-based video tool with Augmented Reality features. The solution creates value in the typical industrial application by quickly and cost-efficiently solving hardware issues to minimize production line stand still and improve general efficiency. You can send a call link to anyone you want and start a shared video stream where the receiver has a plethora of powerful tools for providing remote support, including features that assist in explaining and resolving the issue, such as pointing, pausing, and drawing, sharing your screen, etc.
With smart glasses as one of the most powerful options for the XMReality toolkit, we wanted to create a more effortless remote support experience for workers who need their hands to do the job while being supported remotely.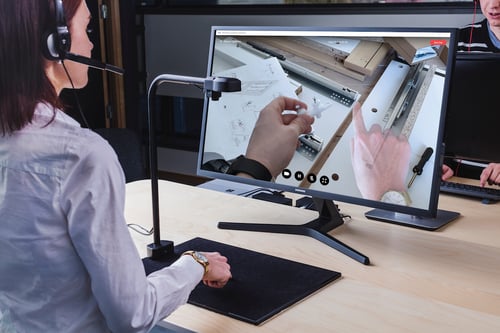 The ways you can interact with smart glasses are different depending on your needs. When using smart glasses, you can use your voice, gesture with your hands or use an external device like a phone. Some smart glasses are voice-controlled, and others are controlled via an external mobile device.
Accompanied by XMReality's hand's overlay feature, you can easily show your colleagues how a problem can be solved. Hands overlay is achieved by overlapping your hand over the supported person's video stream. Almost as if you were in the same room, trying to solve the problem together—a pretty cool experience.
Who should use smart glasses for remote support?
Smart glasses are best used in industries where it is inefficient to hold a phone in one hand and follow instructions with the other. You have those nitty-gritty problems and need both hands to solve them, but at the same time need someone to guide you, showing you exactly how to solve the problem. They are also beneficial if you have long ongoing support or instruction sessions and you get tired of holding a phone in front of you for a few hours.
Smart glasses are meant to be an extension for those with specific issues or needs, not something everyone must have.
Are smart glasses for everyone?
If you've tried XMReality Remote Guidance and don't experience the need for hands-free communication, smart glasses won't be a must-have for you. Enjoy XMReality Remote Guidance support, and keep doing what you're doing.
If there's an urgent issue and troubleshooting to attend to, and the on-site person doesn't have their glasses, then there's limited or no time to install or send a pair of smart glasses. Then it's much quicker to connect using a Remote Guidance call link.