The benefits of the integration between XMReality and Teams
Many of XMReality's customers like Nestlé, Heineken, ABB, and Electrolux already have established ways of working within Microsoft Teams. This integration is an important step towards being part of their existing workflows, increasing the ease-of-use and reducing the friction of starting a remote guidance call.
This will reduce the number of clicks and provides a seamless journey for users, and enable XMReality Remote Guidance usage at a larger scale. This will also help users tackle the obstacles of different communication needs, tool preferences, and geographical distance.
Initiate a Remote Support Call via Teams
With XMReality call links, you can invite anyone to join a remote guidance call. You send a call link directly inside Teams using the XMReality integration and the receiver of the call link simply taps the link and is immediately taken into the support call. No need for app downloads or user registrations.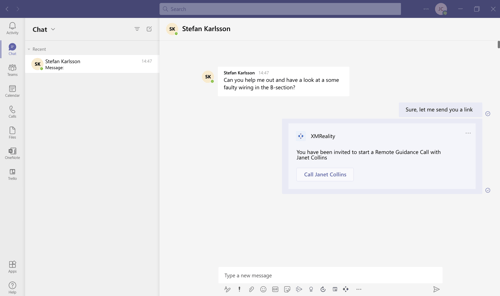 Why use XMReality Remote Guidance instead of a regular video call in Teams
XMReality Remote Guidance allows you to guide another person and see what they experience in real-time, as if you were right by their side. XMReality Remote Guidance is enabled by a combination of real-time video, audio and augmented reality powered guide tools such as hand and object overlays, pointers, annotations, shared images, screens and more.
Whatever device you use, XMReality is built to run on it. From smart glasses to smartphones, tablets, and computers. With no platform limitations, XMReality can run in a standard web browser, or as a native app on Windows, Android and iOS. Smart glasses support include Realwear, Vuzix, Zebra and Iristick.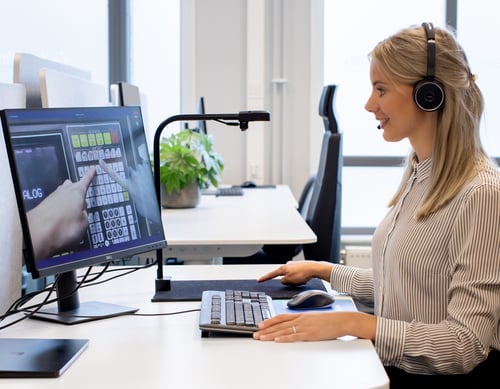 Enhanced problem solving with powerful tools



For faster problem resolution, XMReality provides visual guiding tools powered by augmented reality. Hands and object overlay capabilities let you provide intuitive instructions quickly, with real-time pointers you can highlight specific areas and with annotations you can provide more complex instructions and guidance. To enable hands free operations, you can zoom in and out remotely, take remote snapshots and activate device flashlights remotely.