What's the difference between AR and VR?
The phrases "virtual reality" and "augmented reality" get thrown around a lot and both technologies are experiencing fast growth. They are primarily driven by, and dependent on, improvements in internet connectivity and increased adoption by enterprises and consumers. They are however not new
technologies. VR has in recent years created a lot of buzz within gaming, and AR is quietly breaking new ground in the enterprise sector. Both AR and VR have great potential for industrial applications but are currently seeing the biggest growth within areas such as gaming, marketing, and e-commerce.
What is AR?
Augmented Reality (AR) augments your surroundings by adding digital elements to the real world, often by using the camera on a smartphone.
The primary value of AR is the manner in which components of the digital world blend into a person's perception of the real world, not as a simple display of data, but through the integration of sensations, which are perceived as natural parts of an environment. One of the greatest examples of AR technology is the popular mobile app Pokémon Go, which allows players to locate and capture Pokémon characters that appear in the real world.
The most common areas where AR is used in the industry are for training, education, audits, and inspections. But also healthcare has taken advantage of the technology- through the right applications surgeons and skilled specialists can practice complex procedures without risking expensive resources or patient comfort.

What is VR?
Virtual Reality (VR) is a simulated experience when the world you're standing in is replaced with a virtual one. This can be done with something as simple as a plastic holder which you put your phone into, but these days most people prefer head-mounted displays. Virtual Reality has revolutionized the gaming and entertainment sectors by allowing users to immerse themselves in a highly simulated environment. Virtual reality is also a big player in the education sector- such as medical or military training, but also in business- such as virtual meetings.
The VR-headset has historically needed to be tethered to a device, but more recent versions are able to be used as stand-alone, or wireless. The most famous VR- headset for commercial use, is the Oculus Quest 2 and for business, the targeted PRO version is the Vive Focus 3.
What is the difference between the two?
Virtual reality and augmented reality accomplish two very different things in two very different ways, despite their similar designs. Whereas virtual reality replaces your vision, augmented reality adds to it. The differences come down to the devices you use and the experience itself:
AR uses a real-world setting while VR is completely virtual
AR users can control their presence in the real world; VR users are controlled by the system
VR requires a headset device, but AR can be accessed with just a smartphone
AR enhances both the virtual and real world while VR only enhances a fictional reality
They are both powerful technologies that have yet to make their mark on most people's lives. They have the potential to completely change how we use computers in the future, but whether one or both will succeed is anyone's guess right now.
Some examples of AR and VR applications
There are many industries that are already using AR and VR. Education and training, healthcare, manufacturing and logistics, construction, and real estate, among others.
Nike uses augmented reality and virtual reality in their physical stores. Customers can scan items like shoes or clothing to view information, or they can enter a VR world to experience the different steps in Nike's supply chain, so they understand how and where items are being made.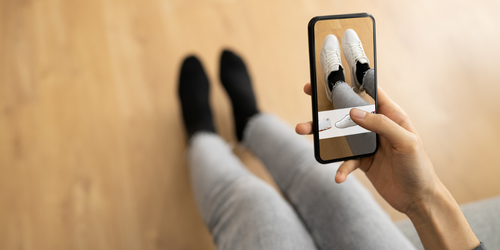 IKEA has developed The Place App, which allows shoppers to use augmented reality with their smartphone camera to place furniture items into their homes so they can visualize exactly how the item will look in their setting.
L'Oreal now offers AR-powered makeup try-on experiences, delivered in collaboration with Facebook. Customers can experiment with the world's leading beauty brands, such as Maybelline, L'Oréal Paris, Lancôme, Giorgio Armani, Yves Saint Laurent, and Urban Decay. In the automotive industry, both BMW and Jaguar, have been using VR for years to hold early design and engineering reviews. This to check the visual design and object obscuration of the vehicle - all before any money has been spent on physically manufacturing the parts.
Healthcare professionals can use VR to better prepare themselves for being in the operating theater - whether as a junior doctor explaining diagnosis and treatment plans, or an orthopedic surgeon performing surgery.
The future of AR and VR
There are many different reports speculating what the global AR and VR market will reach within the upcoming years. According to Statista, the global AR and VR market will reach $296.9 billion U.S. dollars in 2024. AR Technology within the industrial and manufacturing industries stood for the largest revenue share of 24,3% in 2021 and is expected to continue dominating the market forecast period.
While VR is consciously growing within the gaming industry, AR is mostly leveraged in the Industrial and Enterprise sector, for on-site advancements and digitalization. Also, many companies try to fit AR into their process chain of Industry 4.0.
Augmented Reality at XMReality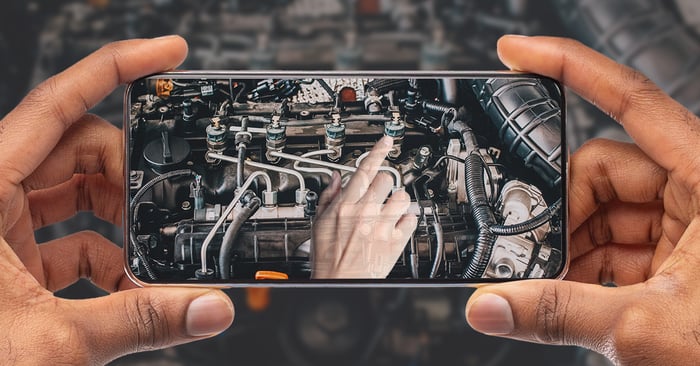 At XMReality, we have embraced augmented reality since 2007. In our remote visual assistance tool, you can use the AR feature Hands Overlay to guide your counterpart by overlaying your hand gestures on top of real time video. Among other features, this AR tool can not only increase efficiency and prevent downtimes- it also help companies increase their revenue and reduce the carbon footprint.