Shared experience from our customers
Several of these use cases are valid regardless of which type of industry your company works within. However, an important question for you to consider when identifying which use cases that are most relevant to your company is not where remote assistance can be used, but how it can create the most value. You can probably come up with many ideas on how to use it, but try to focus on the ones that bring real benefits such as cost savings, increased customer satisfaction, efficiency improvements etc.
1. Customer support
If you are a supplier of a product or a service you know that an important part of the buyer's experience is the support provided after their purchase. There will always arise unplanned issues, in some cases it might be a malfunctioning product or in other cases that the user simply struggles to make sense of how to get the product to work. No matter the reason, they will turn to you to get the support they need.
As a supplier this is actually a point of interaction where you can boost customer satisfaction by providing quick and efficient support so the customer can continue their operations. At the same time you can also improve your own first-time fix rate and can keep down support related costs, a win-win situation!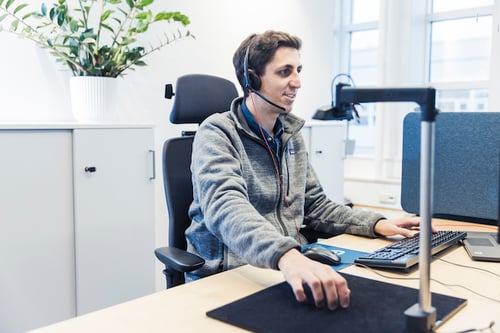 Using visual assistance you can help with two very important steps of the support process:
Troubleshooting to diagnose the error
Use XMReality to see what the customer sees so you can identify the reason for their issue. If you don't have the knowledge needed to instantly help the customer solve the problem you can record the session so that the next person can get up to speed on the issue instantly by watching the video before they connect with the customer. In other cases you can identify which spare parts are needed so that when you send a technician they have the right skill set and equipment to manage the replacement.
Problem resolution by guiding the customer to solve the issue
Once the error has been established it's sometimes an issue that the customer can solve themselves, they just need to be guided step by step, which remote assistance is perfect for. This leads to quicker resolution time, saved costs and also saved trips which is good for the environment.
2. Maintenance
In a typical production process many of the KPI's are related to your maintenance. You don't want unnecessary machine downtime because of maintenance that takes too long. Or in other cases, you definitely don't want resolution of unscheduled downtime to be dependent on an outside expert having to travel to your location! Each hour of stand-still can be extremely costly in larger production lines.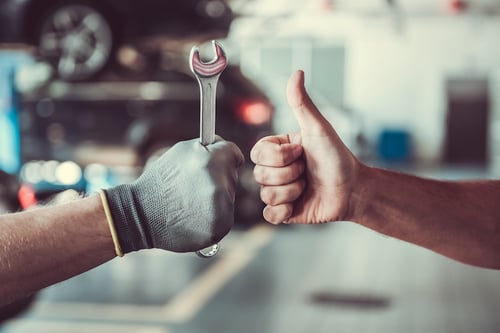 With remote video guidance you can quickly connect with the expert needed for your maintenance, even if they are in a completely different location, to let them guide you through the process. Usually there are two types of maintenance carried out, and remote guidance works for both:
Predictive/planned maintenance
For this type of maintenance you can assess the situation before an on-site visit, give a colleague some extra information, and make sure everything is well prepared. If something unplanned still comes up, connect with an expert through remote video guidance.
Unscheduled maintenance
When something suddenly comes up and needs to be solved as quickly as possible you can instantly connect with the expert(s) needed to get instructions on how to identify and solve the problem. In critical scenarios, XMReality gives you to ability to let one technician start the troubleshooting and help the customer mitigate the effect on their production while another technician starts the travel towards the site. Once he/she arrives, the first technician has already been able to get a grip on what the issue might be while also showing the customer that you take their incident seriously and don't waste any time.
3. Trainings
One area of usage that is rapidly growing amongst our customers are training for knowledge transfer purposes and product training.
Training for knowledge transfer purposes is used to help new recruits faster understand how to solve problems and to shorten their onboarding by having internal experts guide them without being on site themselves. This also allows the expert to onboard multiple people at the same time from the comfort of their office.
With XMReality's step-by-step instructions you can receive all the steps needed to conduct a remote training directly in the application. The remote training instruction set ease companies onboarding of new operators or technicians and help them understand specific tasks or operations.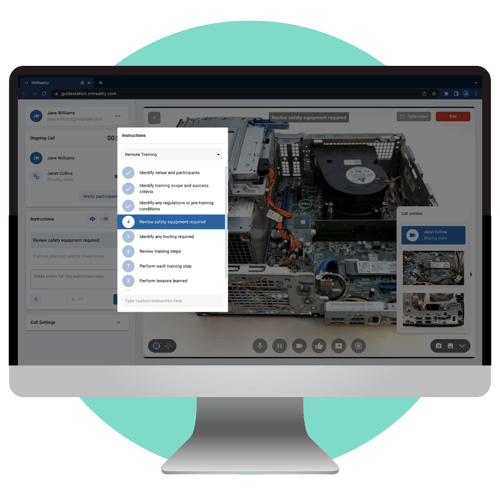 Product training on a newly installed machine is another training senario where XMReality comes in handy. Here, the supplier can offer remote product training after installation through XMReality which allows for faster start-up without waiting for travel time, security clearance and dealing with a crowded factory floor.
The limit of 20 participants in one call also makes XMReality a perfect option for many different training scenarios.
4. Installation and commissioning
When a customer orders a product from you, installation can be part of the delivery, at least for more complex products such as production machines. Here you can use remote guidance to guide the customer through some of the steps in the installation process. In other cases you might have your own personnel who manage the installation and they can then use remote guidance to connect with experts across your company for additional help with some of the process steps. A great thing is also that you can invite several people into the call to make sure the right expertise is at hand. That way you can manage the installation process in a more resource efficient manner - without compromising on quality.
Once the equipment is installed the next step is usually to make sure that it works as it should and find which settings that work best for this setup - this is usually referred to as commissioning. For this stage of the process remote guidance is a great tool to use since this usually takes time and problems can arise unexpectedly. So whenever the customer needs expert help to adjust some of the settings or identify why something isn't working in an optimal way you can instantly connect with them using remote video guidance.
5. Audits and quality checks
Making sure that your equipment is up to standards is important both from an efficiency and safety perspective. Inspecting can also be a vital part of your predictive maintenance planning or a part of your quality assurance routines. Remote guidance can be used to perform some audits remotely instead of having to send a person to the site. It's also perfect to document audits and inspections by using the record function at the same time as you use the guiding features to highlight observations.
Our enhanced functionality "step-by-step instructions" lets you use pre-defined checklists and procedures during your XMReality call. This to ensure that remote tasks are always performed with consistency for higher quality. Apart from having clear steps that you tick off during the call, you can also export all documentation after the call. Making sure that the activity is properly documented for full compliance.
Depending on the exact use you can create benefits such as decreased warranty cost, improve the process for FTA (Factory Acceptance Tests) and in some cases package it into an aftermarket service provided to your customers.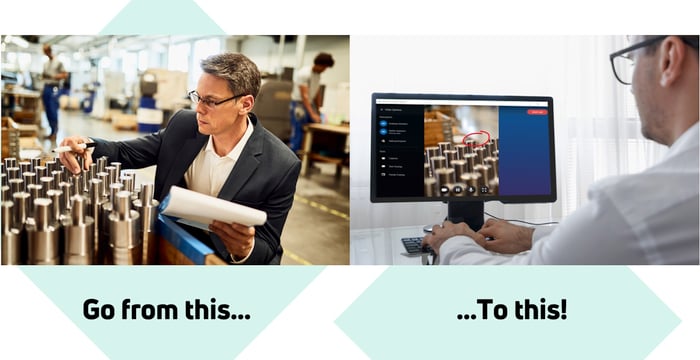 6. Internal support
One very important use case which value shouldn't be underestimated is internal support between colleagues. Many times a company consists of workers with a wide variety of skill sets and expertise - but sharing that expertise and helping each other is not always the easiest thing. Especially since you are sometimes separated by geographical distances or organizational structure. Remote video guidance is a great tool for supporting colleagues and encouraging collaboration and knowledge sharing across the organization.
XMReality visual assistance is a great tool to use when you onboard new coworkers in areas such as technical support or field service to potentially shorten the onboarding phase. With remote video support from a mentor is just one call away and you can also pre-record videos of standard repair routines to use as training material or building a knowledge base around best practice.
How to validate your own use case
These are some of the most common use cases that we at XMReality see at our customers, but of course there are many more depending on what type of business you have. Many times a company using remote guidance has more than one use case and continuously discovers new application areas.
Once you have an idea of which use case(s) that could be beneficial to your company a good next step is to conduct a pilot where you verify this use case and get a chance to test the application in a structured way.