The challenge for Tekniska verken
Even before the pandemic, the employees at Tekniska verken had identified a need for a joint solution to streamline the large number of customer visits and to easier help customers and colleagues remotely. Situations often arose during customer visits, where the service technician who was with the customer to examine or change a meter needed advice from a colleague. In those cases, the Tekniska verken employees had to call each other. And if the problem could not be solved during the conversation, the other employee also had to travel to the customer.
Tekniska verken recognized that on-site informational visits and easier troubleshooting resulted in inefficiencies. The time spent travelling to a customer meant that the service technicians only had the possibility to assist a limited number of customers each day. They also realized that simple "errors" could be resolved by the customers themselves, with remote support from a service technician.
Therefore, the company began to seek a digital tool for remote support that could facilitate communication between employees, increase efficiency during service or information visits, and enable service in a safe way during the pandemic. It was also central that the remote support solution could be used from both a computer and a mobile device.
"We decided on XMReality Remote Guidance because it was a standardized solution, which made the implementation quick and smooth. It was exactly the digital tool we were looking for," says Annette Nilsson, Business Unit Manager of the fuel-based energy entity.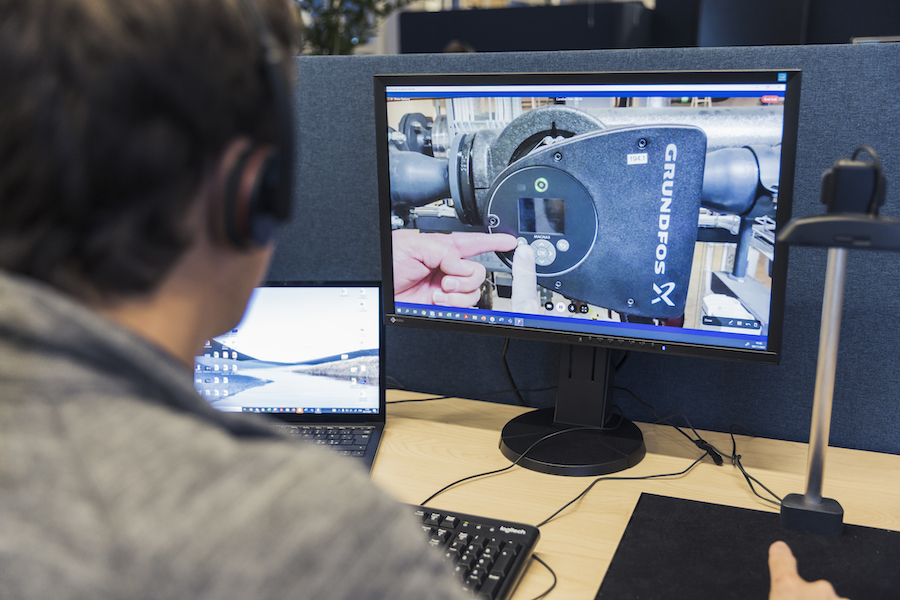 Solution: remote guidance with XMReality
Measurement Technology was the first business unit to start using the XMReality Remote Guidance software, which was implemented October 2020. They were closely followed by Annette Nilsson's fuel-based energy team, who today are the most frequent users of the product. By equipping service technicians with the remote support software and AR-based video capabilities, Tekniska verken service teams were able to solve problems both faster and easier.
"Last winter, one of our service technicians was able to help 14 customers with troubleshooting during one weekend. Without XMReality Remote Guidance, we wouldn't have been able to solve all these cases during one weekend with only one technician. Usually we solve 2-3 cases a day. It was a win-win for both the customers and the employee, and we didn't have to call in additional staff", says Annette Nilsson.
Her team also carries out information visits after the installation of district heating at private customers remotely. Here, the product specialists help new customers get a better understanding of their heating plant. Customers join the remote support session via a call link and the technicians can then give clear instructions and point to the different parts of the equipment through the shared view.
"Some customers want us to carry out a physical visit, while others prefer to receive support remotely. We want to offer support to our customers in their preferred way and setting. With XMReality Remote Guidance, we are more flexible and have more options when supporting our customers. The idea is that we will package the solution and use it as a service option going forward. I believe that some of our customers will consider remote support a hygiene factor in the future ", says Annette Nilsson.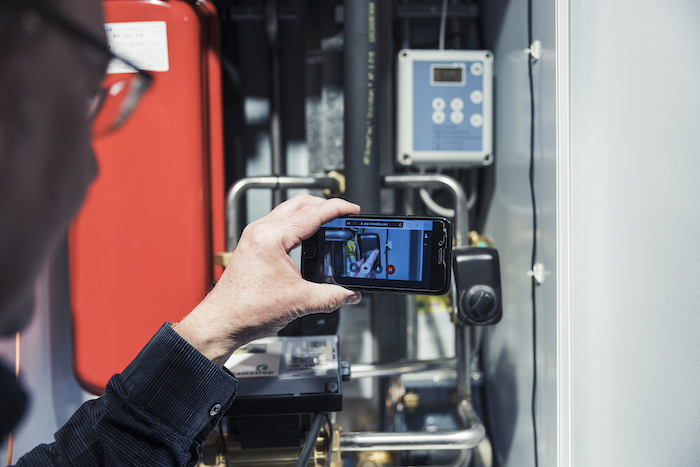 The result

using remote support
Tekniska verken has successfully streamlined their service work with the help of remote support. During the pandemic, the access to XMReality Remote Guidance meant that the company was able to avoid physical visits to both consumers (B2C) and corporate customers (B2B), which gave customers and employees a safer work environment while maintaining high-level support operations.
The overall goal of Tekniska verken is to build the world's most resource-efficient region, where sustainability and digitalisation are two vital cornerstones. XMReality Remote Guidance is one enabler to reach this goal, says Annette Nilsson.
Before they implemented the software, Tekniska verken was just starting their digitalisation journey, but the remote support investment has accelerated their digital development drastically. In September 2021, Tekniska verken chose to scale up the number of XMReality Remote Guidance users. The ambition is to start using the solution in several business areas, adding broadband, water and sewage, where the initial use case will be knowledge sharing and support between colleagues.
"Our success factor has been the fact that employees identified the need for a remote support solution, initiated the implementation, and are now really embracing the tool in their everyday workspace. We have made a fundamental change and come a long way in a very short time," states Annette Nilsson.