When uptime is crucial - so is efficient technical support
With 40,000 machines spread across the globe, effective technical support is a key component at Sidel Group. Sometimes they supply just one machine, but they also supply entire production lines which can include filling, labeling, packing, palletization, and much more. Regardless of the scope, the machines Sidel supplies are important parts of their customers' production, which is often high-paced with high demands on uptime. Just to give you an idea of the impact of downtime we can look at a recently installed packaging line at Mai Dubai that Sidel performed this year. This line packages 86,000 bottles each hour (sizes ranging from 200-500 ml). Just a few hours of downtime will have a massive impact on the output from the line. Imagine what happens if the line stands still for several days?
To be able to offer quick technical support in those instances, Sidel has launched two advanced remote support solutions to ensure rapid response 24/7. We spoke with Loïc Ruebrecht, RVA Project Manager Consultant at Sidel, who has been a part of rolling out these technical support offers at/within Sidel.
Powered by advanced remote support solutions
"Today we offer our customer two types of remote solutions; remote machine access and remote video assistance, RVA, the latter which is based on XMReality", says Loïc. "Remote machine access lets us connect to the machine from remote, review the production data and better understand why something is not working. The next logical step is then to use video to provide the local operator with instant live support. That's when we use our RVA service."
Both of these services enable customers to instantly get help with both diagnostic and problem resolution by connecting to one of the over 200 people that work with product support at Sidel.
For Sidel, Loïc explains that the three biggest benefits of using RVA are the following:
The ability to quickly answer customer requests without having to travel
Troubleshoot remotely and be more prepared if a technician needs to visit the production site. So the pre-visit process becomes more efficient.
The solution is used for knowledge transfer. By guiding someone remotely you also teach them what they can do the next time the same problem arises.
As a standard, all technical support is invoiced to Sidel's customers or is part of a support agreement. Using the remote solutions is however cheaper for the customers compared to a physical visit since it involves fewer billable hours and no traveling expenses - the customer only pays for the time spent directly with troubleshooting and support.
Appreciated by customers, especially during travel restrictions
"The reception of this service has been positive amongst our customers, especially during the pandemic" explains Loïc. "We had started to roll out the service and communicate it externally during 2019, so we had everything up and running when the pandemic hit, and the shift to remote support went rather smoothly as a result". Loïc explains that there are of course customers who prefer to get a traditional physical visit from a technician, but remote services is an extended offer that presents both the internal organization as well as customers with more options for support.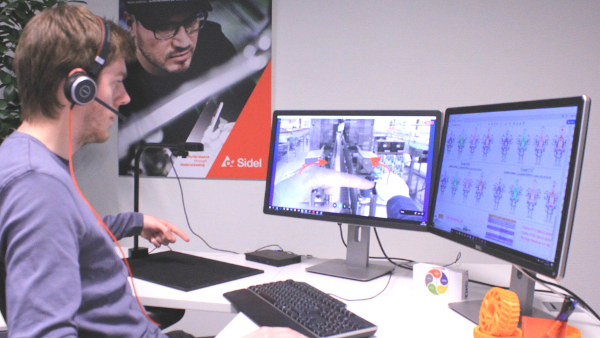 Sidel technician providing fast support remotely from his desk. Photo: Sidel
With RVA, the customers can instantly get visual support from a Sidel technician, making sure they get an expert's eyes on the problem without delay. The technician can use an array of tools to diagnose the problem during an RVA call, such as pausing the video to closely study something and zoom in on details. With augmented reality, the technician can then use hand gestures in the call, showing exactly how to execute certain operations on the machine, for instance, what way to turn a lever or which button to push. In cases where the problem can't be solved remotely, starting with a RVA call can help the technician dispatched by Sidel to arrive well prepared with the right equipment to fix the issue.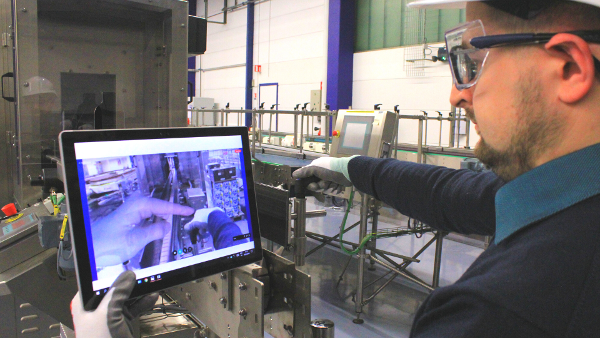 Onsite personnel receiving AR instructions using Sidel's RVA service. Photo: Sidel
A structured roll-out is key during implementation
Loïc also points out that there is a need to explain and hold training sessions around the service both internally and externally when it's implemented. He has been responsible for Sidel's internal training and since they usually sell the remote support service together with smart glasses from RealWear, it's crucial to make sure that everyone is familiar with the technology.
Sidel has worked with this concept for several years and Loïc shared his best advice for other companies that are looking to get started with a similar setup based on XMReality:
Create clear and well-structured training modules that everyone that will be using the software needs to complete.
Do internal presentations as well as live demonstrations of the software to create awareness and show how easy it is to use and get started.
Make sure to quickly respond to internal questions or issues that users are having. At the start of the implementation, you need to be very receptive and put a high priority on supporting the internal users with whatever they need to feel comfortable using the solution.
One of the things that Loïc especially appreciates about the XMReality software is the fact that it's always updated and constantly improved. For example, the recently launched Outlook integration combined with the ability to schedule calls makes it a lot easier for Sidel users to work more structured with the RVA service going forward. For Sidel, developing their remote support solutions will continue to be a focus as they strive for service excellence. And we at XMReality are more than happy to support them with this.
About Sidel
Sidel, one of three industry groups of Tetra Laval, is a leading provider of equipment and services solutions for packaging beverage, food, home and personal care products. Sidel has over 170 years of experience with proven expertise in blowing, filling, labeling, material-handling, end-of-line and line-engineering solutions, including an innovative focus on the factory of tomorrow with advanced systems. You can read more about them on their website.