Prefabricated homes to speed up the building process
In 2020, Panasonic Homes was to deliver prefabricated prototype houses to New Zealand for a government-led project to build warm, dry, and affordable homes. To carry out the delivery, Panasonic Homes partnered with New Zealand's largest privately owned residential building company, Mike Greer Commercial, MGC. The plan was to construct a prototype standalone house using prefabricated building materials based on Panasonic Homes' large panel construction method.
To speed up the building process, part of the work such as incorporating windows and other elements into the walls was done at Panasonic Homes' factory in Japan. The prefabricated building materials were shipped from Japan and reached New Zealand a month later. During this time, however, the conditions for the project changed completely. Travel restrictions were imposed because of the pandemic, and the engineers from Panasonic Homes that were supposed to oversee on-site construction could not enter New Zealand.
Remote video guidance kept the project going
Panasonic Homes quickly revised their plans and decided to provide construction guidance remotely instead of onsite. Using XMReality, the construction staff at MGC were guided on how to put together the watertight envelope of the building. The MGC staff assembled pillars, beams, and roofs in just three days. Remote Guidance was used for all three stages of the building process:
Preparation: to go over what was to be done and how with onsite staff
Construction: monitoring the construction process so that it was carried out correctly and there was availability for questions and discussion
Inspection and correction: following up on the finished result and making sure everything was assembled correctly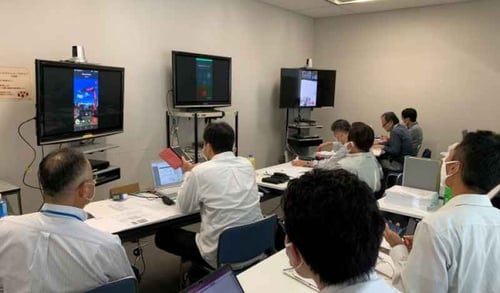 Panasonic Homes' engineers oversee the work remotely from Japan
After this first assembly stage, the New Zealand Government approved the construction and issued special entry visas for Panasonic Homes' engineers. They could now travel to the construction site and lead the remaining work. Upon arrival, the engineers did an onsite inspection and found no defects in the work, even though the work had been guided remotely. All in all, the completion time for the house was three months, which is less than half the standard time of 7 months in New Zealand to complete a house.
"Unexpectedly, the recent success in remotely providing technical guidance for envelope installation of the prototype house showcased the strong point of our prefabricated housing to the people in New Zealand. With sashes and other elements integrated into external wall panels at a factory, the work required at the construction site can be reduced to a minimum. This leads to enabling a shorter construction period and provision of housing of stable quality, irrespective of the skill levels of construction workers." - Panasonic Homes.
About Panasonic Homes

Panasonic Homes was founded in 1963 with the ambition to build quality homes that deserve to be a central part of our daily lives. They desire to provide houses that will be cared for and lived in for generations to create lasting value without compromising on social and environmental factors. Since 2020 they have been a group company of Prime Life Technologies Corporation, founded by Panasonic Corporation and Toyota Motor Corporation, to achieve future-oriented town development.