XMReality visual assistance in already existing workflows
Service agents and field technicians working in Salesforce can now easily set up XMReality Remote Guidance calls with customers to solve their problems faster. XMReality in Salesforce can be used by those customers that use Salesforce Service Cloud, both with and without Salesforce Field Service, as well as those that use the Salesforce CRM service module.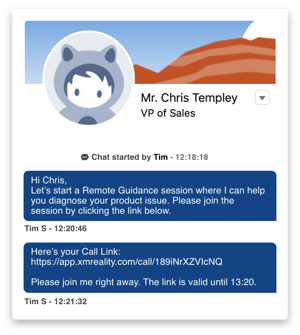 With support for Salesforce Omni-channel and Service Cloud's support channels, it is very easy to start a XMReality Remote Guidance call no matter what channel is being used to communicate with end customers. Be it email, text and social media messaging, or real time chat.
Customer communication is done using standard Salesforce templates and quick texts to align with existing support workflows. XMReality can either be added to already existing templates and quick texts, or XMReality specific templates can be created as needed. Furthermore, XMReality in Salesforce integrates with the activity history and timeline, making it easy to follow up on, and track, the usage of XMReality to solve customer problems.
Highly customizable
XMReality in Salesforce is highly flexible and can be adjusted by each customer according to their needs and their Salesforce setup. While the typical use case involves launching an XMReality Remote Guidance call from a Salesforce support case or work order, XMReality can be used on any Salesforce object. Furthermore, the XMReality component placement is also highly flexible and can be adjusted as needed.
Enhanced problem solving with powerful tools



For faster problem resolution, XMReality provides visual guiding tools powered by augmented reality. Hands and object overlay capabilities let you provide intuitive instructions quickly, with real-time pointers you can highlight specific areas and with annotations you can provide more complex instructions and guidance. To enable hands free operations, you can zoom in and out remotely, take remote snapshots and activate device flashlights remotely.